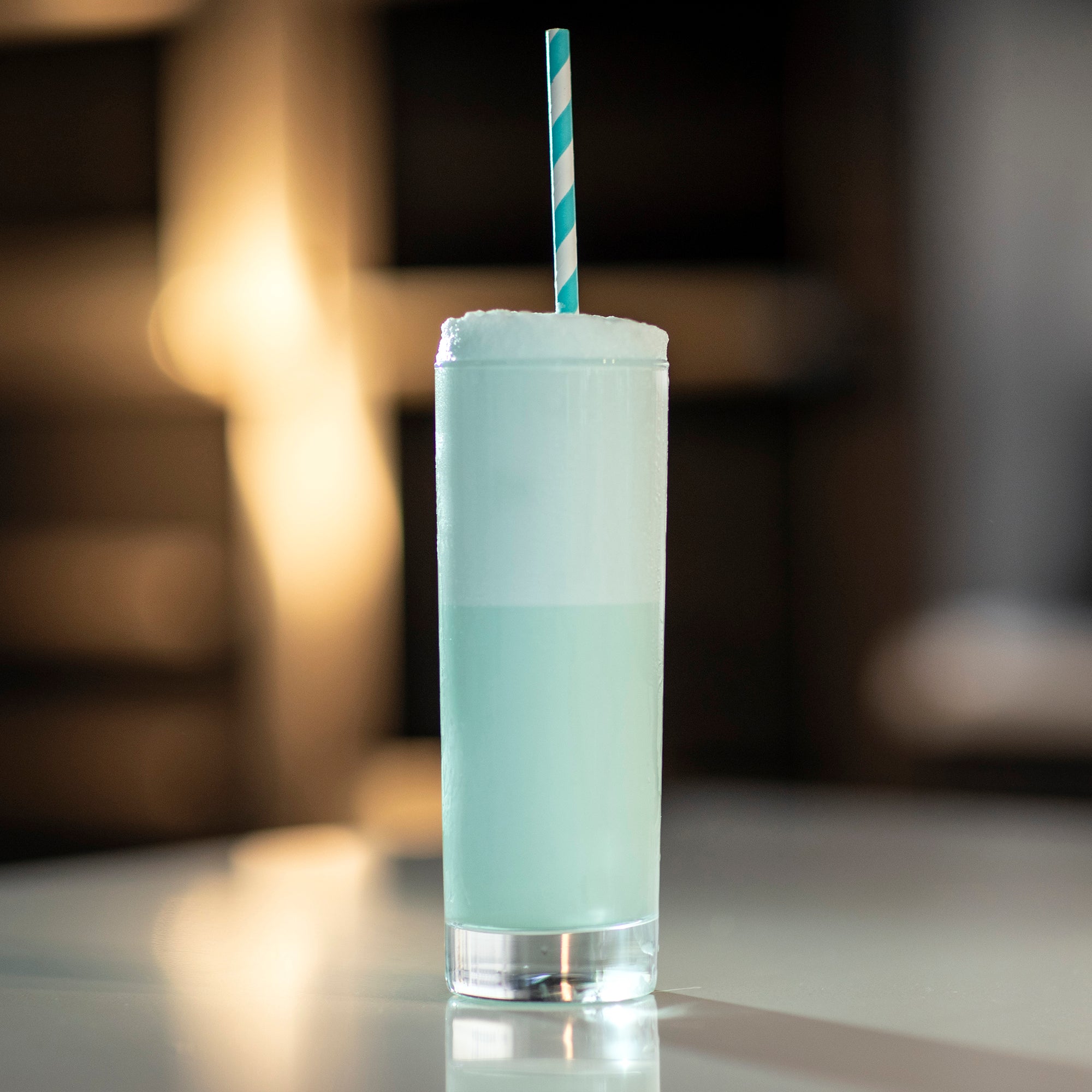 Brand Blue Fizz
INGREDIENTS
60ml Twenty
30ml Double Cream
20ml Vanilla Sugar Syrup
20ml Egg White
15ml Lemon Juice
15ml Lime Juice
10ml Blue Curacao
Soda water
METHOD
1

Pour all the ingredients except the soda water into a shaker tin.

2

Seal and shake for 15 seconds without any ice.

3

Open the shaker and add cubed ice and shake again for 1-2 minutes.

4

The longer shake is important to cool the drink as it is served without ice.

5

It also gives you a great looking foam.

6

Pour a little soda water into an empty Collins Glass, about 10-15ml.

7

Strain the drink into the Collins Glass and leave to sit for 20-30 seconds, top up with Soda Water, allowing the foam head to rise up and sit above the rim of the glass.

8

Garnish with a recycleable/re-useable straw.

9

The foam head should be strong enough to hold the straw straight without it resting on the rim of the glass.
EQUIPMENT
Jigger or measure
Martini/Coupette Glass
Shaker Tin
Hawthorne Strainer
Double Strainer/Sieve (if using)
CHAT
This is a very slight twist on the legendary Ramos Gin Fizz, the main difference is dropping the Orange Blossom water (because I think it's disgusting) and replacing it with Curacao, specifically Blue Curacao as the end drink has a blue hue that isn't dissimilar to the Blue used in Twenty's branding.  The other major difference is that we don't suggest you shake this drink for 11-12 minutes as called for in the original Ramos Gin Fizz recipe, though feel free to try. 
TWIST/HACK
Unless you happen to own a paint mixing machine, there isn't much you can do in terms of lightening the load when it come to putting together this Cocktail, the only consolation I can offer is that when this drink is made right, you'll appreciate the effort!