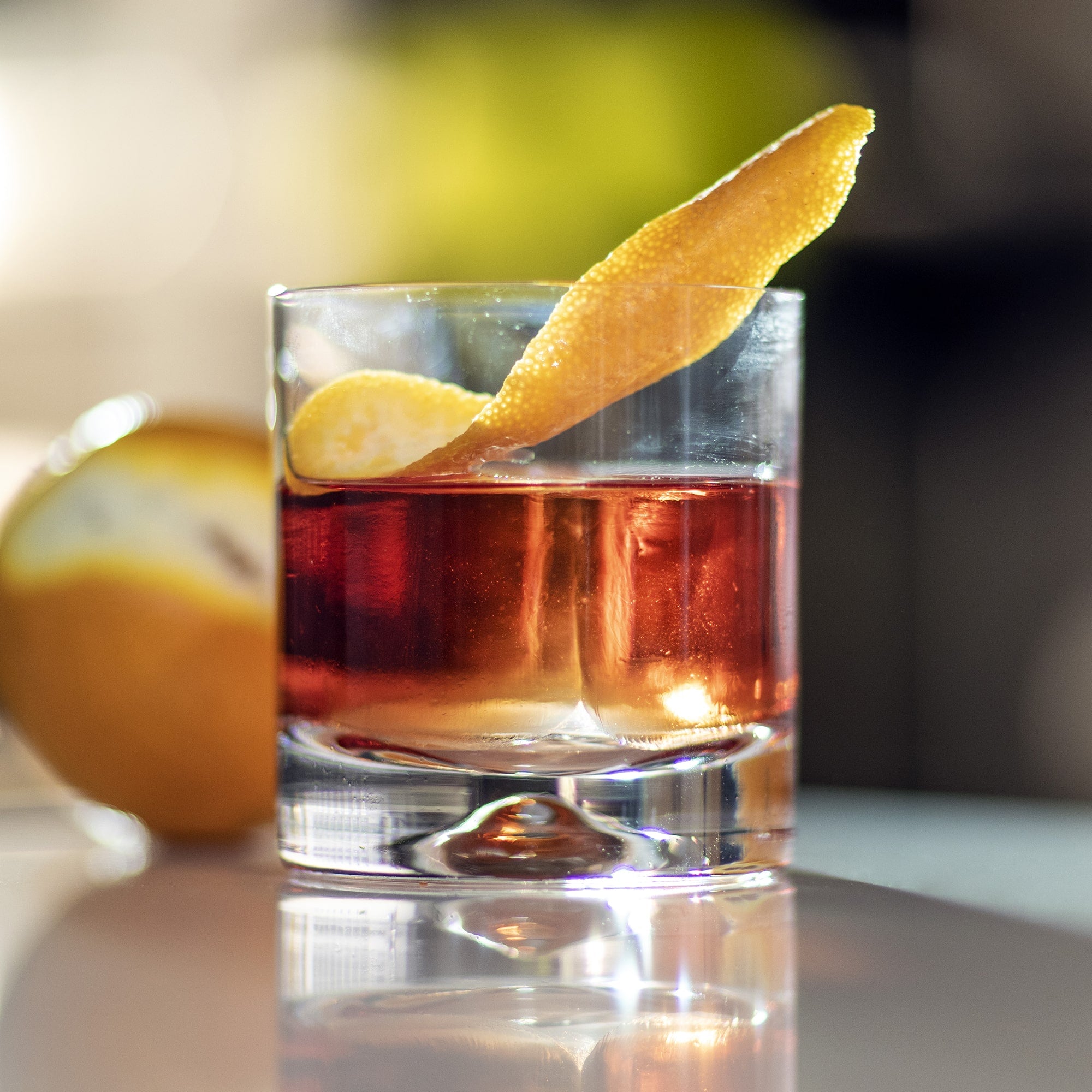 Twenty Negroni
INGREDIENTS
30ml Twenty
20ml Sweet Vermouth
20ml Campari
Orange Zest Garnish
METHOD
1

Pour each of the ingredients into your double Old Fashioned glass.

2

Fill with cubed ice right to the top.

3

Now push your barspoon to the bottom down the inside edge of the glass and gently stir the drink for 20-30 seconds.

4

Remove your barspoon.

5

Take the strip of orange zest, hold it above the drink, and twist it to express the oils of the peel.

6

Push the twisted peel halfway into the drink and enjoy.
EQUIPMENT
Jigger or measure
Double Old Fashined/Rocks Glass
Barspoon/chopstick
Fruit Knife/vegetable Peeler (for Orange Peel Garnish)
CHAT
What DJs did for vinyl records, bartenders have done for the Negroni, this bitter and punchy classic has made a meteoric rise from near extinction to one of the most popular cocktails of modern times. Legend has it that in 1919 Count Camillo Negroni was at Florence's Café Casoni when he asked his friend and Bartender Forsco Scarselli for something stronger than his usual Americano (a cocktail of Campari, Sweet Vermouth and soda water). Scarselli swapped out the soda water for Gin and the Negroni was born.
TWIST/HACK
Next time you finish a bottle of Twenty keep it rather than recycling it. When buying your next bottle of Twenty pick up a bottles of Sweet Vermouth and Campari. Add a zero to each measurement in our Negroni recipe and pour the ingredients into a measuring jug. This will create 700ml (or 10 serves) of pre-batched Negroni which conveniently fits in your empty 700ml bottle of Twenty. Store it in the fridge so it can be enjoyed at a moment's notice whether it's with friends, or to help relax after a long day.