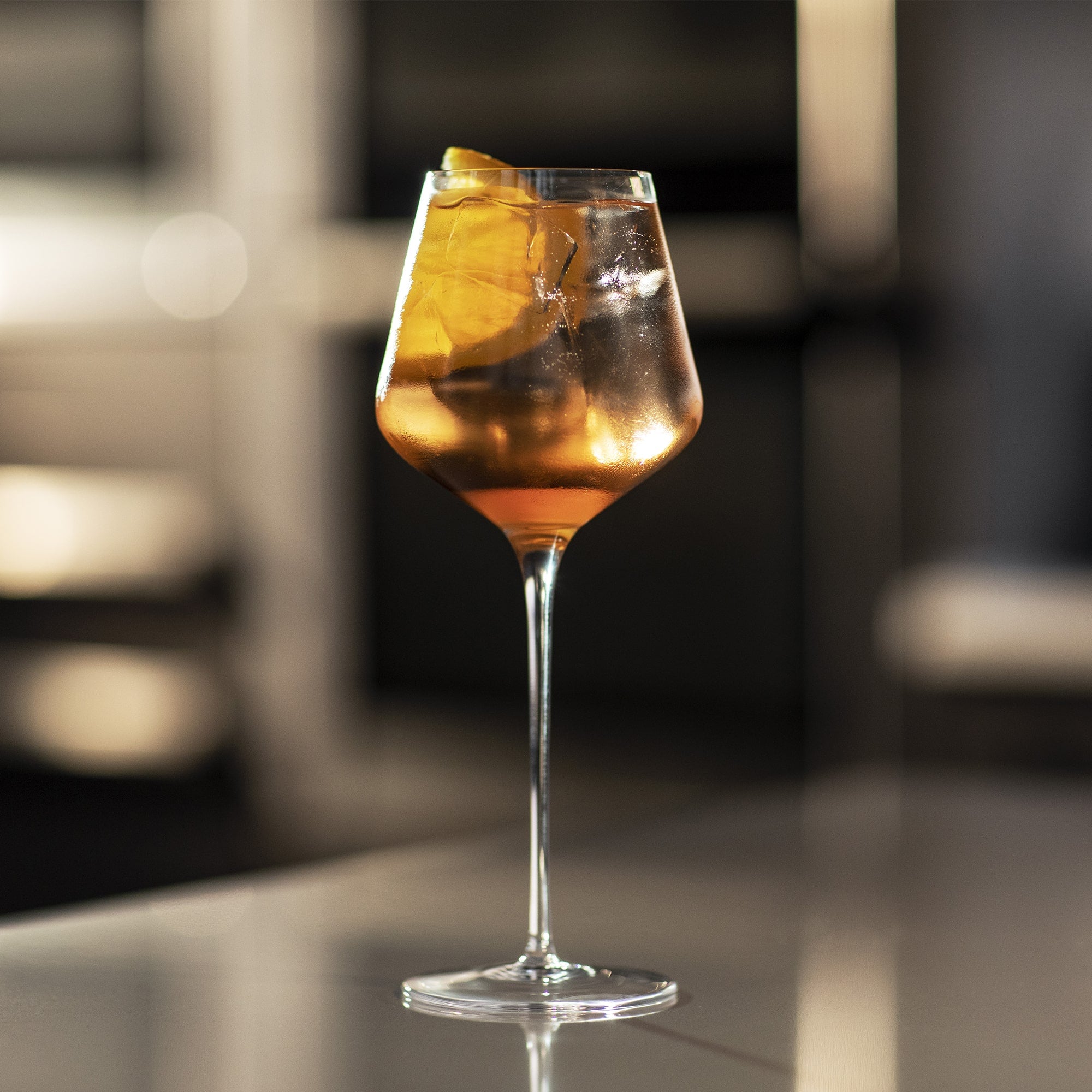 Twenty Spritz
INGREDIENTS
50ml Twenty
25ml Rinquinquin
12.5ml Aperol
1 Dash Peychaud Bitters
Top With Soda Water
Orange Wedge Garnish
METHOD
1

Build this drink in the glass it will be drunk from by pouring the first 4 ingredients into an empty wine glass.

2

Fill with as much cubed ice as you can get in the glass and give it a brief stir.

3

Top up with a little soda water and give it another very quick stir before adding your orange wedge Garnish. Done!
EQUIPMENT
Jigger or measure
Stemmed Wine Glass
Barspoon/Chopstick
Fruit Knife (for Orange Wedge Garnish)
CHAT
This cocktail is for that relaxed afternoon social gathering that will carry on into the night. The Spritz was originally created in Northern Italy to lower the alcoholic strength of wine by adding a splash (the translation of Spritz) of soda water. It is a perfect style of drink for Twenty. The key to this drink is finding the right amount of soda water to add for your perfect balance. The hardest part will be sourcing the Rinquinquin.
TWIST/HACK
This recipe has been created with socialising in mind. The recipe converts into a very simple batching recipe if you think of the measurements in parts rather than milliliters. For example, if you make 1 part equal to 100ml then for your batching recipe 1 part Aperol (100ml), 2 parts Rinquinquin (200ml) and 4 parts Twenty (400ml) will do the trick nicely. This conveniently fits in a 700ml bottle (8 serves), that can be kept in the fridge ready to be poured, topped with soda water, garnished and enjoyed! If you want to add a little celebration to this drink, try swapping out the soda water for Prosecco or Champagne.